Memories

This section will feature old photos of activities of FHS undertaken in the past. Members are encouraged to contribute photos; please send them to Dr. Melba Reantaso via email at melba.reantaso@fao.org.
---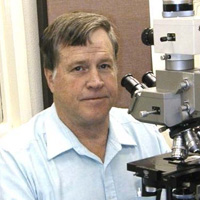 Prof. Donald V. Lightner: An Obituary
(1945-2021)
By: Arun K. Dhar, Aquaculture Pathology Laboratory, School of Animal and Comparative Biomedical Sciences, The University of Arizona, Tucson, Arizona, USA
and Kevin M. Fitzsimmons, Department of Environmental Science, The University of Arizona, Tucson, Arizona, USA.
On May 05, 2021, Prof. Donald V. Lightner passed away in Tucson, Arizona, USA. On that day, the world of aquatic animal health lost a trailblazer and an icon. Throughout his career that spanned over 40 years, he played a seminal role in bringing shrimp aquaculture from utter obscurity and insignificance to a major global industry supporting the lives and livelihood of millions of people around the world, both directly and indirectly.
Lightner first became interested in the diseases of aquatic animals when he worked as a technician in a trout farm for the Colorado Game and Fish Department. The trout farm was suffering significant losses from a common disease of farm-raised trout, so the farm manager began a treatment for the disease without first checking the hardness of the source water. By the time the "treatment" was complete, several tons of trout had died and Lightner was assigned the task of burial of those fish. From the experience of that incident, he focused his graduate studies on becoming a fish pathologist. In 1971, he received his PhD in Fish Pathology from Colorado State University in 1971. After his Education, he took a position at the National Marine Fisheries Laboratory in Galveston, Texas working with the team developing basic methods of captive culture of shrimp.
In 1975 he moved to the University of Arizona and continued to work on infectious diseases and shrimp health at the station in Puerto Peñasco, Mexico, and the UA-Marine Culture Enterprise project in Hawaii.
In the mid-1970's, Dr. Lightner founded the Aquaculture Pathology Laboratory at The University of Arizona. He assembled a team of researchers that included his wife, Rita Redman, and researchers Tom Bell, Kenneth Hasson, Carlos Pantoja, Kathy Tang, Bonnie Polous, Linda Nunan, Leone L. Mohney, Solangel Navarro, Brenda Noble, Paul Schofield, and J. R. Bonami and J. Mari (visiting scientists from IFREMER, France), and many others. These researchers worked tirelessly under his leadership to build much of the basic knowledge of shrimp disease and developed diagnostic tools to prevent the spread of infectious diseases in shrimp around the world. Some of the seminal contributions of Lightner and his team include the discovery of infectious hypodermal and haematopoietic necrosis virus, Taura syndrome virus, infectious myonecrosis virus, Penaeus vannamei nodavirus, and identifying the bacterialetiology of acute hepatopancreatic necrosis disease (earlier known as Early Mortality Syndrome, EMS). The Aquaculture Pathology Laboratory (APL) would go on to gain the status of the Reference Laboratory of Crustacean Diseases for the World Organization for Animal Health (OIE, Paris, France) and an USDA- APHIS approved laboratory for crustacean disease diagnosis. Lightner and his colleagues also realized the importance of incorporating molecular diagnosis of shrimp diseases and started providing proficiency test to diagnostic laboratories worldwide.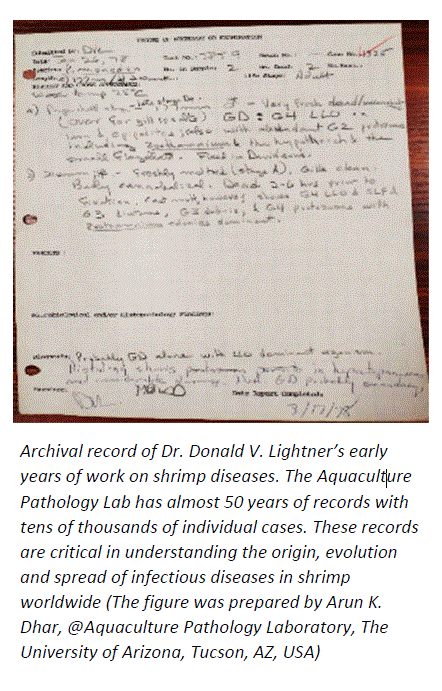 In the early 1980's, the United States Marine Shrimp Farming Consortium was established by the US Congress. In the consortium's infancy, Lightner and his team led the animal health aspect of the captive breeding program. The consortium's effort ultimately led to the development of genetically superior Specific Pathogen Free shrimp and new biosecurity protocols to produce disease-free and disease-resistant animals.
In early 2000, Lightner and his team uncovered how frozen commodity shrimp could be an avenue of spreading very lethal infectious disease like white spot disease across continents leading to a more global approach to understanding the spread of shrimp disease. They also, developed new gene probes and Polymerase Chain Reaction (PCR)-based diagnosis for white spot disease before the viral genome was completely sequenced.
Lightner and his team realized the need of translational research in transforming shrimp aquaculture from a small-scale farming effort to a global industry. He mastered shrimp pathology first using a simple light microscope and he brought the field of shrimp pathology from darkness to One of Lightner's greatest legacies is the hands-on training and contributions to academia on shrimp disease diagnosis he provided to graduate students, researchers and aquatic animal health professionals from around the world. From 1989 when he started the training through 2015 when he retired, he trained almost 1400 specialists from 55 countries around the world. Lightner also authored over 400 scholarly articles and edited many books. Two of these he authored, "Handbook of Pathology and Diagnostic Procedures for Diseases of Penaeid Shrimp" and "A Handbook of Normal Penaeid Histology" are considered as the principal reference books on shrimp pathology in the modern day. For his many achievements and feats, Lightner received many awards and accolades throughout his career including the Lifetime Achievement Award of the World Aquaculture Society and the OIE Gold Medal, the highest award of the OIE for his lifetime contributions. In his passing, he left a wife, two daughters and a son. Though he has passed, Lightner will be missed dearly by his family, friends and colleagues from around the world not only as a superb academician and researcher, but also as a visionary and a pioneer.
---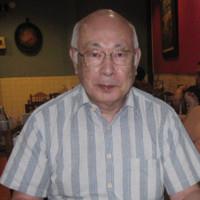 Remembering Prof. Kishio Hatai with utmost respect and fond memories:
(14 August 1944 – 10 August 2021)
By: Dr. Melba B. Reantaso, Food and Agriculture Organization of the United Nations (FAO), Rome, Italy
Professor Kishio Hatai was one of the most famous Japanese national scientists, globally recognized for his expertise related to aquatic animal health and particularly fungal diseases of aquatic species. His academic career began with a Bachelor degree in Aquaculture (University of Tokyo, 1968), a Master degree in Fish Pathology (Tokyo University of Fisheries, 1970) and a Ph.D. in Fish fungal diseases (University of Tokyo, 1979). In 1971, he started his professional experience as a researcher at Sankyo (Japan); then at the Fisheries Institution of Nagasaki Prefecture until 1983; Lecturer (1983-1985); Associate Professor (1985-1991); Professor (1991-2010) and Professor Emeritus in 2010 - all at the Nippon Veterinary and Life Science University (Tokyo, Japan). From 2013, he became Professor at the Borneo Marine Research Institute University, UMS, Sabah Malaysia. Prof. Hatai received several prestigious awards including: The Scientific Achievement Award in Fish Pathology in 1986; The Japanese Society of Fish Pathology Award in 1987; Honorary Doctorate of Veterinary Medicine at Khon Kaen University - Thailand in 2004; the Japan International Cooperation Agency (JICA) President Award in 2007; and the Mycological Society of Japan Lifetime Membership Award in 2009.
We reunited in 2013 when Hatai sensei informed of his wife's visit to Rome and which I had the pleasure of meeting again. In 2015, I took him to one of my projects in Africa dealing with EUS; it was an auspicious time to be able to bring the pioneering discoverer of EUS to Africa and to train African nationals everything about EUS.
Our last conversation at Facebook was in early December 2020, when he informed me that he was sick, and between 23-26 December 2020 and first week of January 2021 – with the usual Christmas, New Year and birthday greetings. Our next greeting would have been on 14 August for his 77th birthday, but sadly he passed away on 10 August. My bad, I should have checked on him much earlier. On 13 August, his daughter Machiko Yagashiro wrote to Hatai sensei's friends at FB to inform that he became sick in October 2020, hospitalized several times and was diagnosed with pancreatic cancer in April 2021 until his passing on 10 August.
A strong supporter of DAA, he attended at least eight if not all. In all cases, he never failed to bring his students to learn, make a presentation and to network. Most memorable were DAA V (November 2002, Australia) and DAA VI (November 2005, Sri Lanka), where he actively participated in the EUS workshop and a training course on fish disease diagnosis and health management, respectively – those times when back-to-back events were held with DAA. Prof Hatai was also one of two FHS/AFS awardees during DAA VI.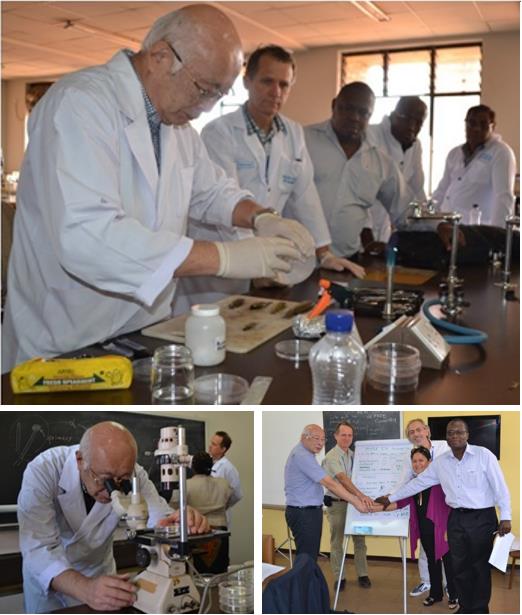 We will not be out of words to describe him. Apart from all above professional achievements and accolades, a very unassuming and kindly man, Hatai sensei is a perfect example of humility and excellence in his field. He will be remembered not only for his generous mentorship of so many people (students, fish farmers, young- to mid-level career entrants, other teachers, professionals) but more so for friendship and fatherly care (protector and provider).
Rest in peace Hatai sensei, my JSPS post-doc mentor on EUS, 25 years ago. Thank you for your passionate service and for unselfishly sharing your knowledge to combat EUS and fungal diseases of aquatic species in the classroom, in the lab and in the field.
---
Farewell to Dr Darnas Dana
January 4, 1947 to August 23, 2007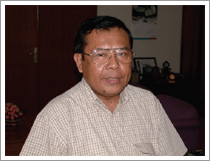 Dr Darnas Dana will be sorely missed by Indonesian colleagues, the FHS/AFS community and international colleagues who had the opportunity to interact with him. Dr Dana earned his BSc degree at the Institute Pertanian Bogor in 1976, his MSc in Biological Science in 1982 from Simon Fraser University (supervised by Dr John Webster; research conducted at Pacific Biological Station, Nanimo under Dr Bob Kabata), and his PhD in Biological Science in 1992 from the University of Calgary in Canada (supervised by Prof Hisao Arai). Dr Dana was a Professor at the Faculty of Fisheries, Bogor Agricultural University; from 2004-2006, he was Director of Fish Health and Environment, Directorate General of Aquaculture, Indonesia Ministry of Marine Affairs and Fisheries; from 1999 to 2003, he was Assistant to the Rector of the Bogor Agricultural University and from 1993 to 1999, he was Dean of the Faculty of Fisheries of the BAU. Aside from his long list of projects, research, publications and students under his supervision, Dr Dana was a pioneering and active member of the FHS. He was instrumental in the local organization of DAA 1 in Bali, Indonesia and was in active attendance to DAA VI in Colombo, Sri Lanka. On behalf of the FHS family, we sadly bid farewell to Dr Darnas Dana and send our prayers and deepest sympathies to his loved ones.
Below are some expressions of sympathy.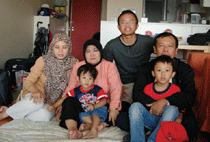 With wife while visiting son and family in Japan in 2007
Richard Arthur: A shock to learn of Darnas' death. Carpe diem! Darnas will be sorely missed - he was such a nice unassuming fellow with a great sense of humor and a sharp scientific mind. Darnas will be sorely missed - he was such a nice unassuming fellow with a great sense of humor and a sharp scientific mind.
Takashi Aoki: I deeply regret to inform you that Prof. Darnas Dana, Bogor Agricultural University, Indonesia passed away due to heart disorder on 23rd August. He was actively working on parasitic diseases of fish and produced brilliant scientific achievements in this area of research. Please pray for his soul and for his family and friends.
Siti Abdullah: Thank you for the info, and hope the beloved family is ok..
Mangalika Hettiriarchi: It was a shock to hear the sad news of passing away of Dr. Darnas. Your suggestion on declaration of pages in the FHS News Letter is a very good idea to respect him & remind his valuable contribution in disseminating the knowledge on fish health. I would like to convey my condolence to his family.
Supranee Chinabut: Thanks for the excellence suggestion regarding the dedecation pages in the FHS Newsletter. It is a big shock for me to receive this sadness news on the pass away of Darnas who was one of the fish parasitologist in the region. Please convey my condolence to his family.

Dr Darnas Dana during DAA VI in Colombo, Sri Lanka, Novembre 2006

Mohammed Shariff: Sorry to hear that we have lost another good friend
Mohammed Zafar: We are family member of Institute of Marine Sciences and Fisheries, University of Chittagong- Bangladeh, really mournful for Dr. Darnas Dana's dead, pray for him to God.
Rajeev Raj: its really a great loss to asian fish health team.
Rohana Subasinghe: This indeed is unexpected news and a very sad one. I remember my last discussions with Darnas a few months ago! I can only imagine how much his family will suffer with his dismissal. May the noble triple gem bless his loved ones and give them the courage to face the realities in life.
Ahsan Habib: The demise of Dr. Darnas Dana, one of the founding members, famous scientist in Aquatic Animal Health in Indonesia very sad news for me. I spent one minute to pray for peace of his departed soul.
CV Mohan: Very surprised and saddened to hear about the sudden demise of Dr Darnas Dana. He was very supportive of the regional program and showed keen interest and involvement. My prayers to god to give courage and strength to his family and friends to bear this untimely loss.
Agus Sunarto: It is with a great sadness to inform you that Dr Darnas Dana passed away on Thursday 23 August 2007. His dedication and love for aquatic animal health in Indonesia will be sadly missed.
---