Memories

This section will feature old photos of activities of FHS undertaken in the past. Members are encouraged to contribute photos; please send them to Dr. Melba Reantaso via email at melba.reantaso@fao.org.
---
Farewell to Dr Darnas Dana
January 4, 1947 to August 23, 2007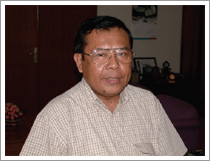 Dr Darnas Dana will be sorely missed by Indonesian colleagues, the FHS/AFS community and international colleagues who had the opportunity to interact with him. Dr Dana earned his BSc degree at the Institute Pertanian Bogor in 1976, his MSc in Biological Science in 1982 from Simon Fraser University (supervised by Dr John Webster; research conducted at Pacific Biological Station, Nanimo under Dr Bob Kabata), and his PhD in Biological Science in 1992 from the University of Calgary in Canada (supervised by Prof Hisao Arai). Dr Dana was a Professor at the Faculty of Fisheries, Bogor Agricultural University; from 2004-2006, he was Director of Fish Health and Environment, Directorate General of Aquaculture, Indonesia Ministry of Marine Affairs and Fisheries; from 1999 to 2003, he was Assistant to the Rector of the Bogor Agricultural University and from 1993 to 1999, he was Dean of the Faculty of Fisheries of the BAU. Aside from his long list of projects, research, publications and students under his supervision, Dr Dana was a pioneering and active member of the FHS. He was instrumental in the local organization of DAA 1 in Bali, Indonesia and was in active attendance to DAA VI in Colombo, Sri Lanka. On behalf of the FHS family, we sadly bid farewell to Dr Darnas Dana and send our prayers and deepest sympathies to his loved ones.
Below are some expressions of sympathy.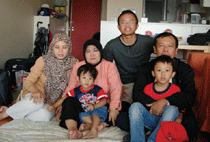 With wife while visiting son and family in Japan in 2007
Richard Arthur: A shock to learn of Darnas' death. Carpe diem! Darnas will be sorely missed - he was such a nice unassuming fellow with a great sense of humor and a sharp scientific mind. Darnas will be sorely missed - he was such a nice unassuming fellow with a great sense of humor and a sharp scientific mind.
Takashi Aoki: I deeply regret to inform you that Prof. Darnas Dana, Bogor Agricultural University, Indonesia passed away due to heart disorder on 23rd August. He was actively working on parasitic diseases of fish and produced brilliant scientific achievements in this area of research. Please pray for his soul and for his family and friends.
Siti Abdullah: Thank you for the info, and hope the beloved family is ok..
Mangalika Hettiriarchi: It was a shock to hear the sad news of passing away of Dr. Darnas. Your suggestion on declaration of pages in the FHS News Letter is a very good idea to respect him & remind his valuable contribution in disseminating the knowledge on fish health. I would like to convey my condolence to his family.
Supranee Chinabut: Thanks for the excellence suggestion regarding the dedecation pages in the FHS Newsletter. It is a big shock for me to receive this sadness news on the pass away of Darnas who was one of the fish parasitologist in the region. Please convey my condolence to his family.

Dr Darnas Dana during DAA VI in Colombo, Sri Lanka, Novembre 2006

Mohammed Shariff: Sorry to hear that we have lost another good friend
Mohammed Zafar: We are family member of Institute of Marine Sciences and Fisheries, University of Chittagong- Bangladeh, really mournful for Dr. Darnas Dana's dead, pray for him to God.
Rajeev Raj: its really a great loss to asian fish health team.
Rohana Subasinghe: This indeed is unexpected news and a very sad one. I remember my last discussions with Darnas a few months ago! I can only imagine how much his family will suffer with his dismissal. May the noble triple gem bless his loved ones and give them the courage to face the realities in life.
Ahsan Habib: The demise of Dr. Darnas Dana, one of the founding members, famous scientist in Aquatic Animal Health in Indonesia very sad news for me. I spent one minute to pray for peace of his departed soul.
CV Mohan: Very surprised and saddened to hear about the sudden demise of Dr Darnas Dana. He was very supportive of the regional program and showed keen interest and involvement. My prayers to god to give courage and strength to his family and friends to bear this untimely loss.
Agus Sunarto: It is with a great sadness to inform you that Dr Darnas Dana passed away on Thursday 23 August 2007. His dedication and love for aquatic animal health in Indonesia will be sadly missed.
---
Workshop on Protozoan Parasites of Cultured Fishes
27 April to 2 May 1987
UPM, Kuala Lumpur, Malaysia